Home
BlueThumb Gallery

In 2018 I am pleased to be launching my new gallery and storefront on BlueThumb.com.au. BlueThumb is an online sales portal, specifically designed for Australian artist selling their art both here and around the world.

To launch my new page on BlueThumb, I am offering for sale a number of my geometric collages, and over the coming weeks I will continue to include additional artworks.

I invite you visit my page by clicking here.
I am very proud to have my work included in the Collage Collective Co. 2017 Annual publication which is now available.

Click here for more information.
Accidental Archaeology

In 2009 I released Accidental Archaeology #1, a book that was intended to be the first in a series of collections of photographs of weathered bill posters. For a variety of reasons, it has now been almost a decade since that first book, and I have yet to release a follow up.

However, I have now begun the process of putting together Accidental Archaeology #2, and at this stage I am hoping to have the book completed and available by the end of March or early April this year.

In the mean time, I have taken 20% off the price of Accidental Archaeology #1 available from Lulu.com, which means the book is now available for $AU32.00 instead of the regular $AU40.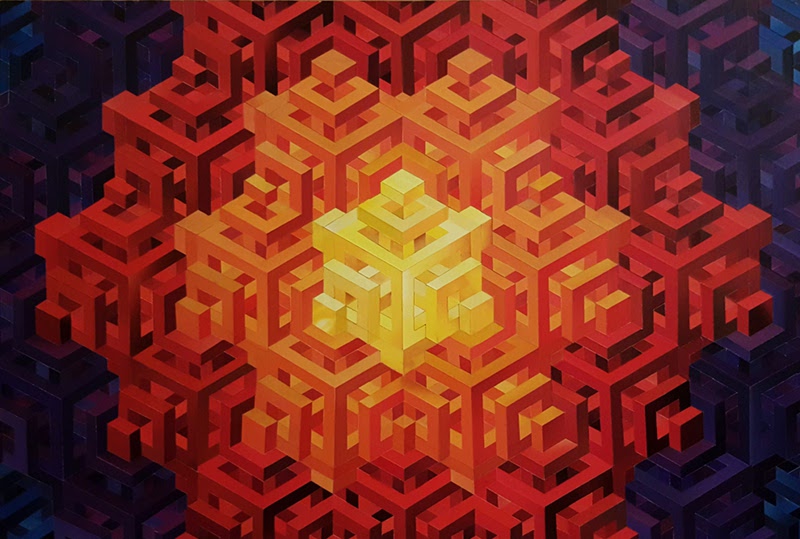 Morphology
Winner 2016 Blackheath Art Society Winter Open Exhibition
"This very geometric abstract work looks at first as if it might be a digital construct and indeed it is possible some design work might owe something to a computer but on close inspection the fabrication of the pice is astonishingly manual. It is a collage of strips of coloured material cut to size and applied to create a vibrant three-dimensional composition.The design is certainly logical in that the basic elements are each expanded cubes throughout with sections cut out and expanded or exploded and yet the effect is magical. It seems to exist somewhere between M.C. Escher and Sol Lewitt. Both of these artists' designs purport, or are indeed, logical mathematical propositions but both are somehow subverted by a mystical streak.
The American art historian Rosalind Krauss has written about the grid in modern art as an indicator of intellectual content but as in the case of Sol Lewitt she points out that the maths is basic and questionable and the success of the work is more about an obsessive and systematic process that she compares with Becket's character Malone who spends his time moving pebbles from one pocket to another devising a system which would ensure that he never moved the same stone twice.
I enjoy the obsessive and meticulous nature of the fabrication and the strange expanded architectural structures that this artist has created. They may be logical and indeed they may be buildable in 3d but I doubt it."
Some Assembly Required

The Some Assembly Required solo exhibition took place at Gallery ONE88 Fine Arts in Katoomba in November 2016
Click here to view the image gallery
---